Beach Barbie
This Saturday the Repton Park Cycle Club are off to the beach at Southwark on the Thames. Meet at the blossom tree at 4.45am to cycle to Shoreditch at Old Street Roundabout, to meet other cyclists.
After a coffee and an aperitif, we shall cycle along the Thames to Billingsgate, where we shall be buying our fish and lobster to cook for our BBQ.
A cycle ride down to the OXO Tower where a lovely sandy beach will be waiting. I'll bring the BBQs, but any salad or marinades, of course wine, bring along to share.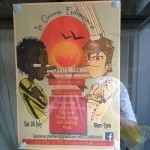 After the tide pushes us off the beach, we will cycle to Bethnal Green, to a small Caribbean Festival, French style. All are welcome to join us on the very early start, or later down Ezra St.